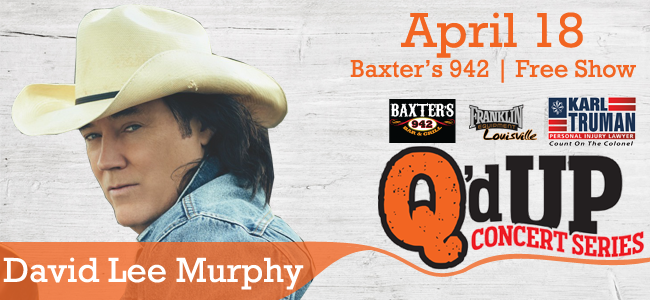 BAXTER'S 942 (942 Baxter Ave, Highlands) | April 18 | 21+
Q'd Up Concert Series at Baxter's 942 with David Lee Murphy! Famous for his #1 hit, "Dust On The Bottle", he's back at it with Kenny Chesney on his newest song "Everything's Gonna Be Alright"! David Lee Murphy is headed to louisville for an up-close, unpluged show at Baxter's 942. 
This is a FREE Show!
The Q'd Up Concert Series is Presented By Karl Truman Personal Injury Lawyer.
Join Us for the Franklin Equipment Q'd Up Pre-Party!
The first 103 people through the door will get an exclusive Q'd Up Koozie. Plus, you can sign up to MEET David Lee Murphy and get $3 Budlight's until 7pm!
New to the Q'd Up Concert Series for 2018, we will honor a member of our Military at each show! If you know somebody who you'd like to have honored at our next show, nominate them now! They'll receive special honors on stage and a Meet & Greet with David Lee Murphy! ( You can also nominate yourself!)