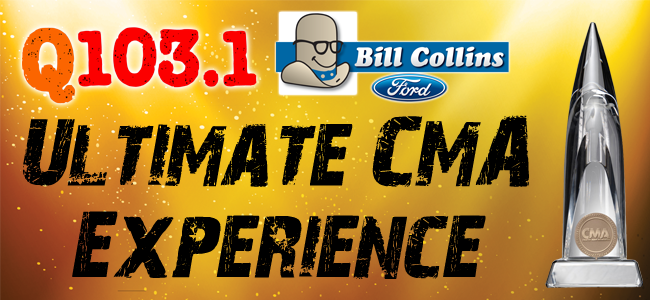 Do you want to head to Nashville to experience the CMA's on November 8? We've got 3 ways for you to get qualified!
Listen to Dingo and Jess at 8am to get the CMA Song of The Day! When you hear it between 9a-5p, call in to qualify and you'll instantly win Jason Aldean Pit Passes!
Sign up HERE!
Sign up when we're out at Bill Collins Ford (4220 Bardstown Rd, Louisville, KY 40218)-
-10/14 1pm-3pm
-10/21 1pm-3pm
On October 30 at 8am, Dingo and Jess will announce the winner! The more times you sign up, the more chances you have to win Q103/Bill Collins Ford's Ultimate CMA Experience!
Trip info:
Nashville Tue, 11/7  – Thursday, 11/9
-Tix to CMA awards
-Tix to Country Music Hall of Fame
-Wild Horse Saloon Dance party
-Music Row tour – w/ studio tour
-Welcome party w/ acoustic concert at Jimmy Buffett's Margaritaville
-Lodging at Hotel Preston
-Ground transportation