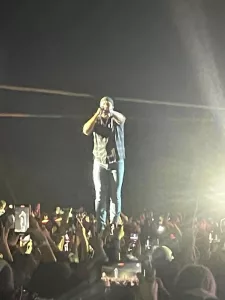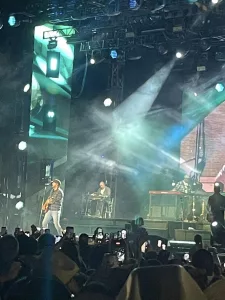 Last night, country music superstar Luke Bryan kicked off his highly anticipated Farm Tour 2023 in Shelbyville, Kentucky. The Farm Tour, which has become a beloved tradition for Bryan and his fans, brings the country music experience to rural communities across the United States.
Shelbyville, a picturesque town known for its rich agricultural heritage, provided the perfect backdrop for the opening night of the tour. The event took place on a sprawling farm, transforming the fields into a lively concert venue. Fans from all over the region flocked to the site, eager to witness the electrifying performance by one of country music's biggest stars.
As the sun began to set, the excitement in the air was palpable. The stage was set, adorned with vibrant lights and state-of-the-art sound equipment. The crowd eagerly awaited Luke Bryan's arrival, their anticipation building with each passing minute.
Finally, the moment arrived. Luke Bryan took the stage, greeted by thunderous applause and cheers from his adoring fans. Dressed in his signature cowboy hat and jeans, he exuded an infectious energy that instantly captivated the audience.
Bryan wasted no time in delivering an unforgettable performance. His powerful vocals filled the night air as he belted out hit after hit, including fan favorites like "Country Girl (Shake It for Me)" and "Play It Again." The crowd sang along, their voices blending harmoniously with Bryan's, creating an incredible atmosphere of unity and joy.
Throughout the night, Bryan showcased his incredible stage presence, effortlessly engaging with the audience. He shared stories, cracked jokes, and expressed his gratitude for the unwavering support of his fans. The connection between the artist and his audience was undeniable, creating a truly magical experience.
The Farm Tour 2023 promises to be a memorable journey for Luke Bryan and his fans. With upcoming stops in various rural communities, the tour aims to celebrate the heart and soul of country music while bringing communities together. As the tour continues, fans can expect more unforgettable performances, heartfelt moments, and a celebration of the rural way of life.
Last night's opening night in Shelbyville, Kentucky, set the bar high for the rest of the tour. Luke Bryan's Farm Tour 2023 is off to an incredible start, leaving fans eagerly anticipating the next stop on this remarkable musical journey.