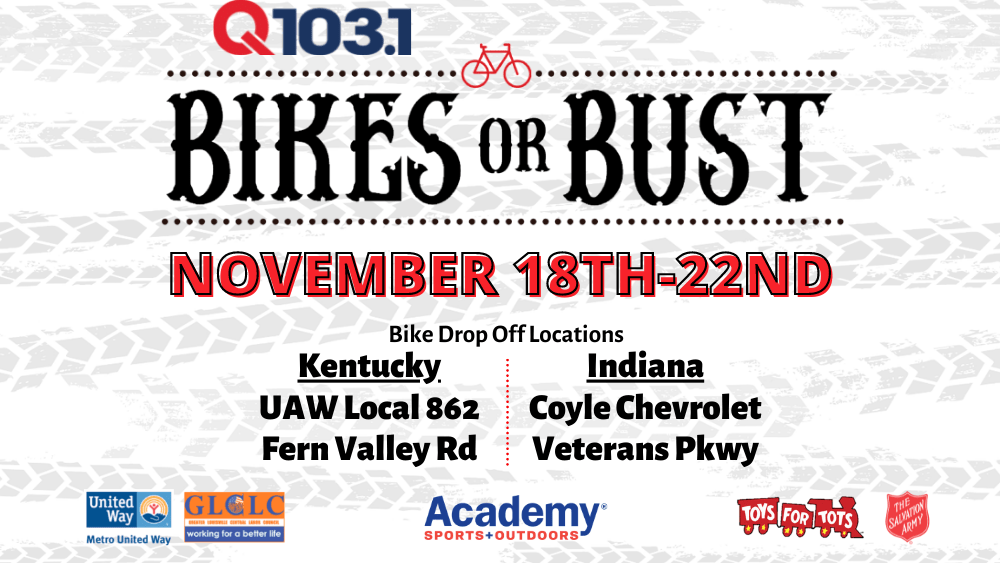 Q103.1's Bikes or Bust is back for year 6 collecting bikes for children this Christmas!
For 103 hours, our afternoon guy, Matt Copper, and our friend, Magic Mike, will broadcast LIVE from high atop a scissor lift 40 feet in the air starting November 18th at both of our collection locations, UAW Local 862 on Fern Valley Road and Coyle Automotive in Clarksville.
All bikes collected will go to the Marine Corps Toys for Tots and The Salvation Army of Southern Indiana. We've collected over 11,000 brand-new bikes for underprivileged children within the Louisville & Southern Indiana region!
The community delivered in 2020 with all of the obstacles thrown the world's way. Let's keep the momentum going into 2021! The need for bikes remains at an all-time high for both The Salvation Army & Toys for Tots. We greatly appreciate your donations and are excited for an even bigger and better Bikes or Bust this year!
Look for Matt stationed on the Kentucky side at UAW Local 862. Magic Mike will be on the Indiana side at Coyle Chevrolet in Clarksville. Both will be happy to see you bring out bikes!
Bikes or Bust is presented by Academy Sports + Outdoors