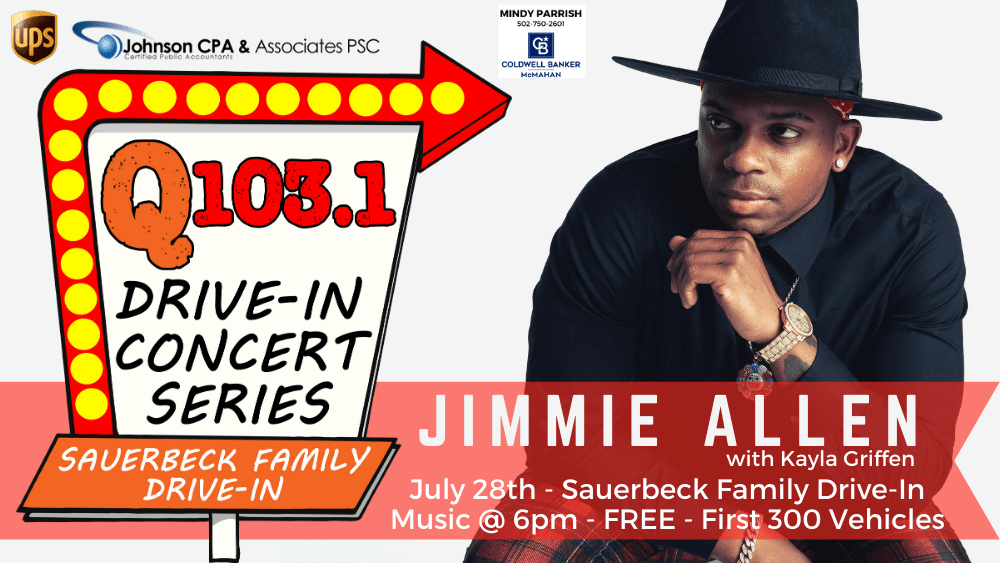 You haven't done this in months, but you have wanted to! That's why Q103 is happy to bring you the Q103 Drive-In Concert Series at the Sauerbeck Family Drive-In! This series is bringing you your favorite country artists, LIVE IN CONCERT, while maintaining safe social distancing guidelines! Best of all, it's FREE!
Our very first drive-in concert is with Jimmie Allen and local artist Kayla Griffen July 28th!

TO OBTAIN THE SAFETY OF EVERYONE IN ATTENDANCE, MASKS WILL BE REQUIRED TO BE WORN BY ALL GUESTS ANYTIME THEY ARE OUTSIDE OF THEIR VEHICLE. IF YOU CHOOSE TO SIT OUTSIDE OF YOUR VEHICLE, YOU MUST WEAR A MASK FULL TIME. THIS ALSO INCLUDES GOING TO THE CONCESSIONS FOR CURBSIDE PICKUP OR TO THE BATHROOM.  ALL DETAILS CAN BE FOUND HERE OR AT THE LINK BELOW.
ONLY THE FIRST 300 VEHICLES WILL BE ADMITTED WITH A 6 PERSON LIMIT PER VEHICLE. ARRIVE EARLY TO AVOID LINES. LEAVE 6FT OF EMPTY SPACE BETWEEN CARS AND STAY AT LEAST 6 FEET AWAY FROM OTHER GUESTS WHEN OUTSIDE OF YOUR VEHICLE.
Q103 Drive-In Concert Series with Jimmie Allen
July 28th, 2020
Sauerbeck Family Drive-In
Gates open at 5pm
Kayla Griffen @ 6pm
Jimmie Allen @ 7pm
FIRST 300 CARS ONLY, 6 PERSON LIMIT PER VEHICLE
FREE
MASK ARE REQUIRED ANYTIME YOU ARE OUTSIDE OF YOUR VEHICLE
Sound for the show will be transmitted by FM Radio Station 92.3. You can listen via your vehicle's stereo system or portable radio.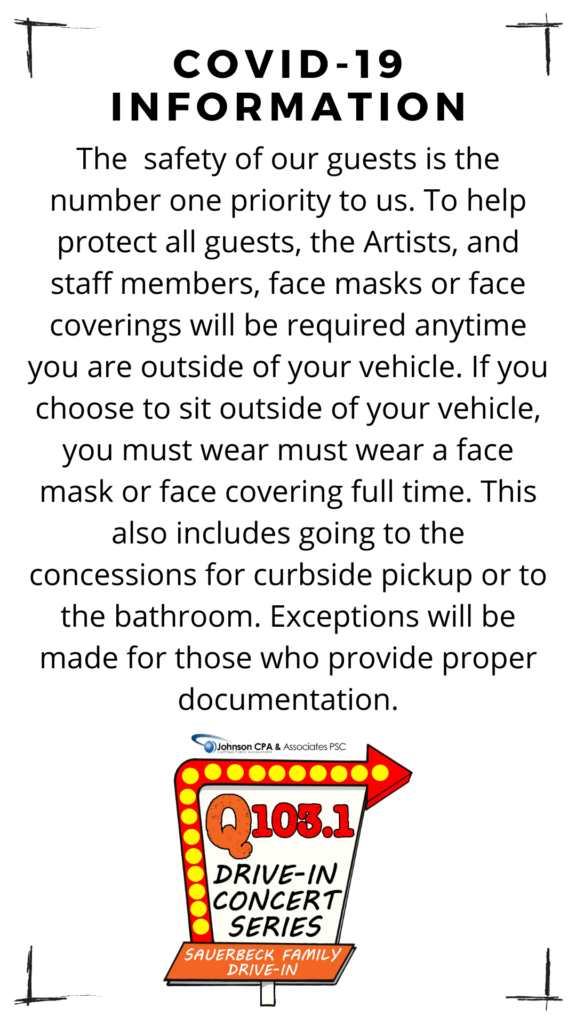 After the show, you can enjoy the movie Rudy with the Notre Dame Club of Greater Louisville as they give our students a "social-distancing friendly sendoff." Tickets are $15 per vehicle and can be purchased at www.sauerbeckfamilydrivein.com. Click HERE to view the Facebook Event Page. 
What to bring
Flolding Chairs or Blankets
Flash Light
Bug Spray
Portable Radio (If you don't want to use your vehicles stereo)
What NOT to bring
No- Outside food or drink (without permit)
No- Smoking or E-Cigarettes
No- Alcohol
No- Laser Pointers or Flashing Lights
The Q103 Drive-In Series is brought to you by Johnson CPA & Associates PSC  and presented by UPS Jobs KY  & Midy Parrish, Coldwell Banker McMahan